Our Mission:
Building community and creating joy; fostering quality singing through commitment, rehearsal and performance. The Tilikum Choir Community is a group of interested and enthusiastic singers, most of who are from the Portland Metropolitan area. We have partnered with Oregon State University Music in Portland: School of Arts and Communication. Many of our concerts feature a choral group from the University.
Tilikum Choir is directed by John Baker, former Rex Putnam High School choir director (1979-2011) and current choir director at Milwaukie Lutheran Church. John is also the Interim Artistic Director for Pacific Youth Choirs of Portland, 2022-2023 season. Our singing year usually includes 3-4 terms. However, due to the nature of the larger works, we will have 2 major projects this coming year. We'd love for you to join us!
Requirements are:
*The ability to match pitch and blend within a choral setting. Anyone needing help with matching pitch will have an opportunity to study privately (at the singer's expense) and return for a voice check when they feel ready.
*Attendance at most rehearsals and concerts
*Pandemic Protocol: SOCIAL DISTANCING and MASKS based on CDC/Local guidelines.
*Fees: $150 per term or $250 per year for 2022-23 season. We hope YOU will consider joining us in the Tilikum Choir Community!
*Rehearsals: Tilikum Choir Community rehearses on Tuesday nights from 7:00-8:30 pm in the Fellowship Hall at Milwaukie Lutheran Church, 3810 SE Lake RD, Milwaukie, OR 97222.
**************Terms & Concerts***************
Fall Kick-Off-September 24, "All Day Retreat": 9 am-3 pm; Potluck: 4:00-?
Fall/Holiday Term Rehearsals: October 4-December 13; Tuesdays 7:00-8:30 pm
*HOLIDAY Concert- Lauridsen's "Lux Aeterna" & Holiday Favorites with Full Orchestra
Saturday, December 17, 2022 @ 7:00 pm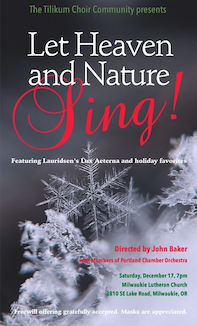 **********************
Spring Term 2023-Rehearsals: February 14-May 9, Tuesdays 7:00-8:30 pm
NO REHEARSAL Tuesday, March 28, 2023
*SPRING Concert- Rossini's "Cum Sancto Spiritu" with Orchestra and other selections
Saturday, May 13, 2023 @ 7:00 pm
***********************
*Questions/Contact: John or Sandy- johnbakerchoir@gmail.com